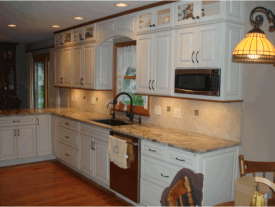 Kitchens are the heart of the home and after years of use there will be a few things that need attention. Dale's Handyman is here to help get your kitchen back to new whether it's countertops and sinks or windows and baseboards you need replaced, Dale is the right man for the job.
Dales Dependable Handyman Service is able to make short work of those little repairs that seem to pile up. Whether it's replacing that leaky faucet or replacing some wobbly drawers, we can repair the existing or even install some new space-saving drawers and cabinets.
The busy kitchen can never have too much storage space and with a little redsign help from Dale, you can utilize that corner that was always just wasted space and freshen up the look of your kitchen at the same time.
Whether it's replacing an entire counter top with the latest materials or doing some new ceramic floor tile and a back splash, you can get the job done with one call.
Dale's Handyman will also do a complete kitchen remodel if you decide you need more than just a few repairs. We can help you through the complete process from installing new cabinets, to painting, drywall repair and adding some crown moulding and trim for the finishing touches.
Start your next project right with a call to Dale's Dependable Handyman Service at 260-463-3970.