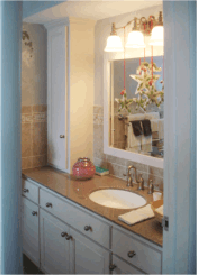 Bathrooms usually handle a fair amount of traffic and inevitably need updates and repairs done. Bathrooms are also usually small and can never have too much storage space.
So if your are thinking about doing some updates, contact Dales Dependable Handyman Service and get some ideas of what we can do to help make this room more useful.
Whether it's adding handicap accessibility or changing the countertops, adding new cabinets or installing a new tile shower, we can help you get the job done.
Dale's Dependable Handyman Service offers a complete solution to your bathroom renovation project. From installing counter tops in a material of your choice, making shower tile repairs and laying ceramic floor tiles, it only takes one call to check all these major tasks off your "To Do" list.