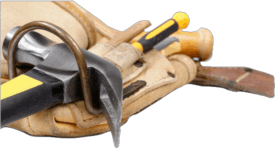 Home maintenance can be a little daunting to try and stay on top of the little fix-it list. Many small repairs such as fixing a broken tile, a leaky water pipe, small leak around the bathroom vent or skylight or loose gutter can turn into an expensive home repair if not handled right away.
When there is not enough time to reach around... reach for the phone. Dale's Dependable Handyman Service can come to the rescue. We can take care of those small and even larger repair jobs to keep your home in solid working order.
Selling your home? Sometime a few minor repairs can make all the difference in finding a buyer and moving it for the right price. We have the skill and knowledge required to make those repairs.